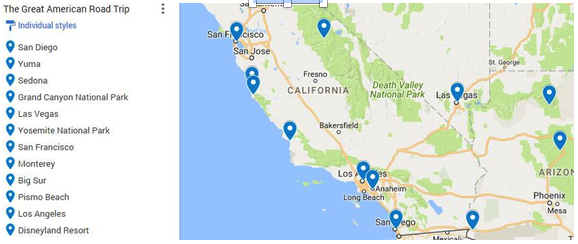 Looking for your perfect American Dream Road Trip? Well look no further, we have you covered here at San Diego Van Rentals.
Below we have come up with an amazing 2-week itinerary that will help you achieve a mix of excitement and relaxation.
San Diego to Yuma
2.5 Hours
1 Night
While you have some time in Yuma we highly recommend visiting the ghost town, getting locked up in the cells and seeing what it was like back in the day with the first settlers. Check out some of these amazing attractions during your stay.
Yuma to Sedona
4.5 Hours
1 Night
Sedona is filled with beautiful red sandstone formations. If you make it out there for sunrise and sunset these amazing structures will illuminate brilliant colors of red and orange.
Sedona to Grand Canyon
2 Hours
1 Nights
Who doesn't have the Grand Canyon on a bucket list? We sure do!
Make sure to spend some time exploring the various formations in this incredible place. Take some time to relax while you are here, you are going to need it to prepare for your next destination.
Grand Canyon to Las Vegas
4 Hours
2 Nights
On your way to Las Vegas, stop at the historic Hoover Dam. It is definitely worth seeing.
Once you get to Vegas spend your first day walking the strip and take in all the amazing sights, such as the Bellagio Fountains and the Mirage Volcano. Then on the next day, you'll have a better idea of what you want to do in this crazy place, whether it's to try your luck at gambling or taking in one of the many amazing shows.
Las Vegas to Yosemite
6 Hours
2 Nights
While this is a long drive, stop off halfway at Death Valley midway for a nice easy hike, lunch, and some relaxation.
When you arrive in Yosemite you will be surrounded by breathtaking waterfalls, lakes, giant sequoia groves, mountains, meadows, and even glaciers.
Yosemite to San Francisco
3.5 Hours
2 Nights
In San Fransisco, you will be able to visit many famous locations such as the Golden Gate Bridge, Fisherman's Wharf and even Alcatraz.
San Francisco to Monterey
3 Hours
1 Night
Another historic location, the quaint town of Monterey was the only port town in California for taxable goods. With is many boutique attractions now you will have a blast exploring.
Monterey to Big Sur to Pismo Beach
4 Hours
1 Night
Driving along the iconic Hwy 101 is the epitome of the American dream, and Big Sur and Pismo Beach are the surf towns you need to see along the way.
Pismo Beach to Los Angeles
4 Hours
2 Night
While in LA make sure to go see the Santa Monica Pier, the Hollywood Walk of Fame, and the iconic Hollywood sign, among many other amazing adventures.
Los Angeles to Disneyland
1.5 Hours
1 Night
The best part of your trip for that inner child of yours. Make sure to go early and invest in a FastPass.
Disneyland to San Diego
3 Hours
San Diego is only a short drive from Disneyland, therefore you are in no rush to get back!